What you can learn from "Shamu" the Killer Whale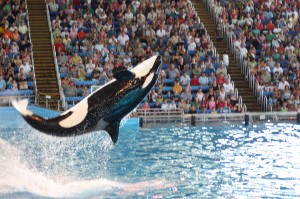 Well I am back from a wonderful relaxing vacation with the family. Despite the sweltering heat we had an amazing time visiting San Antonio and Sea World. Now, I would like to be able to say that I did not think about work but unfortunately I can not help but think about how my experiences can help give you an edge or tip to increase your knowledge and business. So, my question for you today is, what can you learn from a killer whale named "Shamu"? 
I am assuming everyone has had the opportunity to visit a Sea World and has seen the Shamu Show. If not, I highly recommend that you visit a location near you and take in the experience. So with that being said, each year Sea Worlds change things up with the themes of their shows and currently the theme of the Shamu show is "Believe". What a great theme for what we are currently experiencing right now in this economy. I know people are struggling right now and now more than ever it is important to continue to believe in what you are doing and most importantly, believe in yourself.  Beleiving in yourself is an important first step for your success, but the real lesson I want to get across to you today is what you can learn from Shamu the killer whale.
The first and most important lesson to take away is that Shamu is the predator of all predators in the ocean; however, as dominant as this creature is the killer whale and the Sea World trainers have developed a trust that is incomprehensible to think of. Who would ever think that a whale and a trainer could come together and develop a trust that allows a unique relationship to develop and flourish. Building trust is the single most important  trait that you need to develop with your clients. Trust will open up doors that you never thought were possible and once the doors are open then you will be able to help solve the emotional pain that your client is experiencing. I guarantee you that once you have established trust with your client you will create a raving fan. (More on raving fans at a later date)
The second take away from Shamu is the adaptability that exists between him and the environment that exists at Sea World. It is almost unfathomable to think that a killer whale is able to adapt to different elements and ultimately succeed no matter what environment that he is in. This is important for personal trainers if you want to succeed. The best way to become a successful personal trainer is to adapt to your environment and your client. Each client will present a different opportunity and with that you will need to adapt to their personality and their needs if you want to retain them as a client. Listen, if a killer whale can adapt from being the dominant animal in the sea to a trained entertainer then I know that you can adapt to whatever client personality that is presented to you.
If you want to be a successful personal trainer learn two things from Shamu the killer whale. Build trust and learn to adapt to your environment and you will become successful with your business.