Top 3 Marketing Trends for 2012
Top 3 Marketing Trends for 2012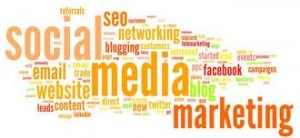 In the Information Age, the more information you can provide to potential customers, the more likely they are to learn from you, and find you to be a credible, reliable source. Credibility is the first step to earning confidence. Customer confidence leads to increased sales. Focus on delivering QUALITY content about your business and your services, and your public perception will increase…as will your sales.
Cisco predicts that 80% of all internet traffic will be video by 2015. If you're not learning about how to use video to grow your business online, it's time to get started. Consider video presentations about your business and services. Go for quality and differentiate yourself from your competition early in the game. Video brochures, video newsletters, and regular video communications on your web site will identify your business as progressive and "in touch". Become friends with your local video production company and get a leg up on your competition.
Facebook will reach 1 Billion members in late 2011 or early 2012. That's almost one quarter of the world's population as members on one web site. If you don't have a Facebook page, now is the time to get one. Social media isn't just for idle workers. Businesses are using social media to connect to a larger world of customers. Twitter, Facebook, LinkedIn and others are leading the way. But don't just be a follower. Lead the way by using these great business applications that are take social media one step further: Chatter by SalesForce.com, Jabber… Show and Share…and Quad…all by Cisco. From webcasting, and video sharing to cutting edge business networking applications, our world is going Social. Don't get left behind. Be an early adapter and get a "leg up" on your competition.