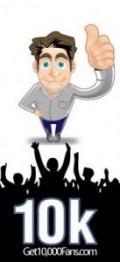 22 minutes to generating business on Facebook
What if  I told you that all you need to do is set aside 22 minutes of your time and you could be generating business on Facebook.
I mean let's face it you have heard all the buzz about how you need a Facebook Fan Page for your business but do you really know what you need to do to convert 'Fans' into customers. Don't worry I was right there with you when I first started but I finally realized I needed to learn more about how to use my fan page to capture leads and eventually get sales.
I came across a guy by the name of Brian Moran who didn't just promote his product as a "buy this to make millions" but showed me how to grow a fan base that actually buys from you. Brian practices what he preaches and gives out great content.
Check out this live demo from Brian Moran of Get 10,000 Fans! Brian has taken multiple Fan Page from 0 to 10,000 fans and way beyond. And here is a short demo he did about 2 unbelievably common mistakes so many of us make when marketing on Facebook. Check it out!
Oh, and yes in full disclosure that is my affiliate link but as I always do I never promote anyone that I have not personally either used their products or followed them for some time.
I truly believe that if you just follow one or two of Brian's strategies you will grow a Facebook Fan page that will give you paying customers.