The Top 3 Business Principles I Learned from my Daughter selling Girl Scout Cookies!
Everything you need to know about basic sales and marketing for your small business can be learned from observing the selling of Girl Scout cookies. Yes, you heard me right I am talking about those cookies that are sold only one time a year, which if you are like me you could eat a whole box in one sitting if you tried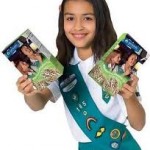 This past year happened to be my daughters first year in Girl Scouts. Now, throughout the years I have bought many boxes, probably more than I care to share with you, but I never really saw the power and insight behind the actual selling.
In case you do not have daughters or have not been associated with something similar to Girl Scouts I will give you a brief overview of my understanding, which I am not totally in on the inside so I may have a few facts wrong but here is the overview.
The first step that the girls take is to pick a charity that they want to raise and donate money to. Then, each troop is asked to set a goal of how many boxes of cookies they want to sell as a troop and also individually. Now, if you are health conscious like me and do not want to gain weight from eating so many cookies they have an awesome way to get around that by  donating cookies to the troops. Finally, a small portion of the proceeds go back to the troop and the girls use that money to do some team outings. It really is a great way to teach our young girls entrepreneurship, teamwork,philanthropy, and many more great skills.
Okay, so that is a brief overview of the Girl Scouts and now I am sure you are asking yourself, " how can I learn everything I need to know about sales and marketing from selling Girl Scout cookies?" Well ,that my friend is going to be easy, so let me explain.
First of all, if you have a product that people want, then selling it will be easy. I know  what you are thinking, "well duh, that makes sense." And yes, all of us keenly understand that basic concept in theory but when you look around and study businesses that have failed you see that sometimes the entrepreneur believes in their mind that they have a product people want but in actuality the market does not. Now, I am not saying everybody is going to by Girl Scout cookies but anyone who has ever had a thin mint is not going to say no to buying some boxes, which goes to my argument that the product is great and people want it

Key #1 have a product or service people want and need and you will have no problem making sales!
The second key concept is to have an irresistible offer. Now, I know I am biased but my daughter is the cutest thing to ever walk this planet and how could anyone turn down a little girl walking up to you in her Girl Scout uniform. Shoot before I had my daughter I could remember getting out of my car and seeing the girls sitting outside the grocery store selling cookies. Every time they got my order because I could not resist the offer of a little girl selling a great product.
Key #2 is to have an irresistible offer that a prospect can't refuse!
The final key concept to learn is the call to action. The Girl Scout cookies are only sold once a year, around the Jan-March time frame, so if you don't get them during that time period you have to wait until next year. Shoot, the other day a gentlemen bought enough to almost make it the entire year. That is of course if you don't eat entire sleeve in one sitting like I have done before

Key #3 is to have a call to action that will prompt the client to buy. We as human beings tend to put things off until the last minute but if you set the urgency in their mind you have a better chance of getting the sale.
So, just to recap the key points here:
#1 create a product or service people want
#2 create an irresistible offer
#3 have a call to action
If you just implement those three concepts into your online or offline business you will have no problem attracting leads and making sales.
If you want to learn more principles to growing your business check out this FREE webinar at www.attractmoreleads.com