The Best iPhone Apps For the Small Business On The Go
The Best iPhone Apps For the Small Business On The Go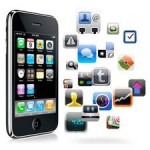 We now possess the ability to bring our work with us anywhere we go. This can sometimes be a bad thing, in the case of vacations or weekends, when the last thing you want to think about is that one client who was hounding you all week. But taking your job with you anywhere can also be great. Many of the core areas of business are performed digitally now, including marketing, inventory management and sales. This has allowed the development of some great apps for your iPhone. If you're constantly on the move, whether that means running around town going to different meetings or flying to different continents for your business, here are a few apps you should not be without.
Google Docs
This is basically a mobile incarnation of Google's popular document editing and sharing application. If you're ever collaborating on a business proposal, speech or marketing strategy with another person or a group of people, this is a great app for you. The app continuously updates your documents so that other collaborators' updates show up on your phone within seconds. Google Docs also features Google Cloud Print, which is an awesome feature that allows you to print wirelessly on the go.
Freshbooks Minibooks
Have you ever gotten a call from an old customer asking you to quote him a price on a project, but you don't have all the numbers in front of you? This app allows you to view and send information about invoices, quotes, payments and more right from your iPhone. Freshbooks is the leading firm for online invoicing and MiniBooks' clean design and great organization are evidence of that.
Square
You've probably been to a farmer's market or craft fair and seen vendors sliding customer's credit cards through the little white square attached to the end of their iPhone. That, my friend, is Square. The app allows you to take credit card payments for goods on the go. Square's rates are very reasonable (2.75 percent on all charges), and you can set up your account so the money gets deposited in your business' bank account the next day. Don't be the only game in town that doesn't accept plastic. Go Square.
The ability to bring your work with you anywhere is great, and these apps help enhance that ability. The key to maintaining your sanity, however, is to know when to turn your phone off and enjoy your vacations, weekends and holidays. And there's not an app for that. Yet.
"Brett T. writes about small business, new software, inventory management, and time management for the Blog Content Guild.